WHAT'S NEW AT PA KIDS MARKET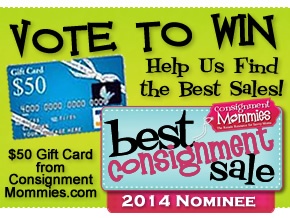 PA Kids Market has been nominated in the Harrisburg Regional Market as one of the Best Sales. Please go to www.consignmentmommies.com and vote for us. We'd love to be selected as the areas "Best Consignment Sale". Voting closes December 8, 2014.
The 2015 PA Kids Market sales will be undergoing changes to try to improve our sale and some because of the requirements of Pennsylvania's Bedding and Upholstery Law.
1. We will no longer accept/be selling any multi-layer bedding which includes comforter sets, crib bumpers, etc. We will except receiving blankets or single layer blankets.
2. We will no longer accept/be selling stuffed animals of any kind
3. We will no longer accept/be selling any food items or lotions/shampoos, etc. that aren't in clear bottles.
4. We will no longer accept boppies or pillows. We will accept covers for them but not the boppy or pillow itself.
5. The consignor fee will be increased to $12 per consignor and will still be deducted from your sale check. This increase is due to an increase in overall sale administration costs especially costs associated with complying with the PA Bedding and Upholstrey Law.
6. Pre-Sale shopping classifications and times have been expanded.
7. Consignors will no longer be required to bring a self addressed, stamped envelope to check in. However, they will still be required to bring a signed consignor agreement and a brown bag with their consignor number on it.
8. Merchandise tags will only be accepted if printed on white card stock paper and attached with safety pins or tape. Plastic tag guns can NOT be used to affix tags to garments.
9. Consignor Inventory System will be shutting down the Thursday night before sale week instead of Sunday night. For the Spring/Summer 2015 sale inventory entry will close on Thursday night, April 16 at 11:59PM. There are a lot of reports and planning of the floor layout that we need to do after inventory input closes and waiting until Sunday night to close it no longer gives us the time to get all of the "Pre-Sale" work completed by Tuesday evening when we start setting the floor for the sale.
Consignor Tips of the Trade
We have received many inquiries over the past few years from people regarding how to become a consignor and what to do after you are registered as a consignor. Our website has alot of information regarding our sale but not a detailed how to guide with what do we do next information. We have developed the PA Kids Market Consignor's Tips of the Trade to address these questions. It is written in a question and answer format and available at the link below. We hope that it helps you navigate all of the possiblities and responsibilities of a PA Kids Market Consignor. Click here to open document
If you want to contact us via email the address is: